Telecom Access Products
Passive Elements for FTTH Networks
Telecom Access
Installations in Interior and Client
SC / APC Pre-connectorised supply connection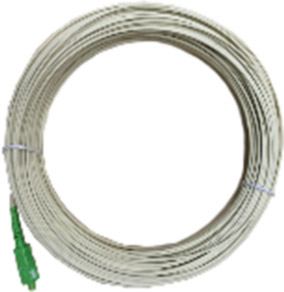 Technical characteristics
• Optic fibre cable connectorised on one end to perform the supply connection between the distribution box inside the building and the optical terminal boxes of the client.
• Monomode Fibre G675A2
• Easy strip adjusted fiber
• Available with cable of diameter: 4.2 mm, 3 mm, 2mm and low friction
• Lenghts: 30,40, 50, 60, 100 m
• Traction elements:
   – Cylindrical cable with aramid threads
   – Low friction cable with steel or FRP/KFRP threads
• LSZH, CPR outer cover Dca degree
• SC/APC Connectorization:
   – Insertion Losses <0,20.
   – Return loss > 60dB.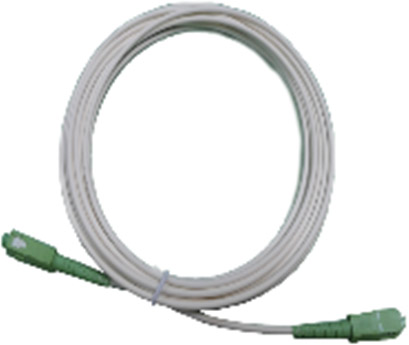 Technical characteristics
• Used to interconnect optic fibre equipment of the client that require SC/ APC o UPC connectorization
• Monomode Fibre G675A2
• Available in diameters: 1,8; 2,4; 3 mm.
• Lengths: 60 cm, 2m, 3m, 5m, 10m, y 20m.
• Ends: SC/APC, SC/UPC.
• Traction elements with aramid threads
• LSZH outer cover Ivory/yellow color
• SC/APC Connectorization:
   – Insertion Losses <0,20.
   – Return loss > 60dB.
Optic and Transition Rose
Technical characteristics
Element where the optic connection cable ends in the client's home. In it there is a pigtail fusion ended in an SC/APC connector. It can also be used to fuse two fibre cables in interiors.
• It allows 5 possible connection cable entries
• Admits FO cables of  2-7 mm diameter
• Allows connection of up to two connection cables
• Wall or normalized inbuilt box mounting
• Includes inside foldable tray to stock the spare fibers and fusions
• Made in ABS+PC, UL94V0 plastic mate
• Available in several versions:
   – Final Rose: with and additional pigtail FO G675A2 with SC/APC connector and foldable lid adaptor
   – Transition Rose: Without pigtail or adaptor
Junction box on floor for 8 clients
Technical characteristics
• It is the optic fibre network distribution point that is deployed in the inside of the buildings, located between the vertical distribution network and the horizontal network of connection for the clients.
• It has two entries for the vertical cable (riser), allowing the section of fusion cable until 48 fibers.
• It allows to store until  7 microtubes
• It equips the connection panel with 8 adaptors for connection with and end in their inferior part
• It has two trays to store fusions and a tray for microtubules
• Each tray allows the installation of a divider connectorized  1×8 y 12 fusions
• The fusion and storage area is separated of the connection area by an interior lid
• Made in ABS+PC, UL94 V0 plastic material
• Covered to protect connection cables as an independent element
Telecom Access
For exterior installations and Client
SC/APC pre-connectorized connections SC / APC
Technical characteristics
• Connection for exterior of optic fibre on an end to connect with the distribution box in the facade of the building and the optic rose of the client. It is designed and prepared for its installation in exteriors.
• Finished at an end with SC/APC reinforced or standard connector.
• G675A2 monomode fibre with adjusted buffer.
• Cable made with wide tuve and exterior diameter of 5mm.
• Elements of traction of the cable with aramid threads, as well as additional water blocking elements.
• Exterior cover LSZH, CPR Dca/Eca degree (depending on the model)
• Available with different connector types and reinforcement
• Lengths: 30m, 50m, 80m,150m y 220 m
• Connectorization:
   – Insertion Losses <0,20
   – Return loss > 60dB
FO for exterior Distribution Box
Technical characteristics
• The Distribution Box for exterior is the point of distribution for optic fibre that is deployed in the facades or inner patios of the buildings
• Made in ABS+PC, UL94V0 plastic
• Interior or outdoors installation
• It incorporates three autosupportive trays to fusion fibers
• The areas for fusion and guidance of fibre are independent of the connection cable area
• It allows connection cables of until 5 mm of diameter
• Interior Connectorisation protected from challenging weather conditions
• It can be equipped with:
   – 16 SC/APC adaptors with lid, premounted in the box
   – 16 pigtail SC/APC 1,5m long
F.O. Junction Box to install in Catch Basin or Register
Technical characteristics
• Sealed box for fusions designed to allow reopening
• Made in retardant polypropylene with mechanic skills that protect it against damage caused by cold or UV rays.
• Humidity and water resistant, vibration and crash proof made
• On the inside it incorporated, depending on the model, a total of 24/24 trays for fusion with 12 fibre capacity each, which allows a total fusion capacity of 288/512 fibers
• It equips 6 entry ports for round cable with a Φ6~33mm diameter and 1 oval entry port dimensions Φ10mm~Φ25 mm
• Available Models:
   – AM-GJSD7F672: 512 fibres capacity, 56 trays.
   – AM-GJSD7F288: 288 fibres capacity, 24 trays.
• Dimensions:
   – AM-GJSD7F672: Φ312 x 678mm
   – AM-GJSD7F288: Φ298 x 504mm
WOULD YOU LIKE MORE INFORMATION ?
You can request more information and we will be delighted to help you with everything you need

We facilitate the market transformation towards business models with industrial and technological solutions, betting for markets with a high growing potential.

Amper S.A. c/Virgilio 2 (Bldg.4) Ciudad de la Imagen PC 28223, Pozuelo de Alarcón, Madrid. Tel: +34 91 724 30 00